Vogel State Park
What's so wonderful Vogel State Park?
The white sandy Florida Beach!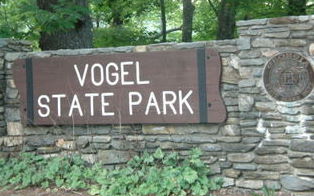 All of the national, state, and local parks in north Georgia offer attractions, beauty, and natural fun that the mountain top terrain of north Georgia. Vogel State Park is one of the most popular and oldest state parks and is NO exception.
Camping Life Magazine recognized Vogel State Park as one of the top 25 public campgrounds in the US. While I do not know about the other 24 campgrounds, I can vouch that Vogel State Park offers a wide range of activities in a scenic mountain valley with a fresh water stream feeding the lake.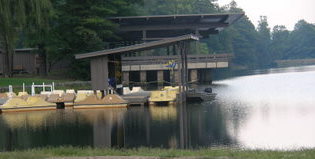 I enjoy sitting at the stream and listening to the water cascading over the rock. When I had completed my rest to its fullest extent, I leisurely strolled (sometimes known as hiked) the around the 22-acre park lake on the one-mile lake trail.
As for hiking there are several trails to choose from. Besides the lake trail, there is the 0.8-mile Byron Herbert Reece Nature trail that takes about 1-hour, the 4-mile Bear Hair Gap trail loop that takes about 4-hours and the 13-mile Coosa Backcountry Trail that is a daylong outing. Printed trail map brochures are available at the park office.
Park activities include swimming, hiking, pedal boat rentals, and miniature golf. In addition the park provides a wide range of overnight accommodations.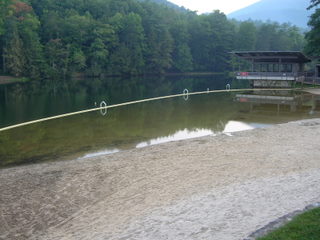 One more thing, I have played miniature golf at many locations and most being active vacation location with lots of people, lights and activities. It was good and that was the thing to do. Let me tell you about another thing to do.
Play miniature golf at Vogel State Park. Now that is a family time to bond. It is quite and relaxing. No flashing lights, loud people and piped in music. It's all about hearing the children playing and laughing and best of all: in between shots you can ponder the magnificence of creation as you gaze upon the magnificent beauty of the lake in the glorious mountainous background.
It does not get any better!
If you want more information on Vogel State Park facilities and events, call the park at (706) 745-2628 or click here to go to the Official Vogel State Park website.