Georgia PARKS
What is so wonderful about Georgia Parks?
The mountainous beauty and scenic views!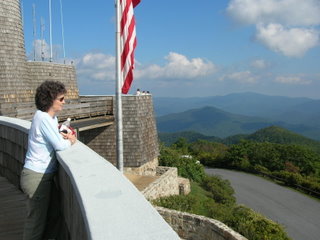 All of the national, state, and local parks in North Georgia offer attractions, events, beauty, and natural fun that only the mountain top terrain of North Georgia can offer.
The purpose of Exploring-North-Georgia.com (see purpose) is to write about what I found in my exploration of these Parks (and north Georgia) and report to you. If this does not work for you and you want the bottom line, Exploring-North-Georgia.com has that too.
Below is a Park summary for your review.
Many of these Parks have links to my experience from exploring the Park.
For the bottom line folks, the Georgia State Park website is outstanding. I would rather not waste your time reading my site rewrite their site. Go to http://www.gastateparks.org/ to get detail on Georgia State Parks. This includes facility information, upcoming park events, and even a park map. This site has a "park amenity search" box for your convenience. It is an excellent and professional website.
National Forest
Anna Ruby Waterfall – To get to this waterfall you will have to go to Unicoi State Park and drive through it. At the end of the 3 or 4-mile drive is the Anna Ruby Visitor Center. I suggest you go there and feed the fish or at least look out over the deck to look for some. This is Smith Creek. Walking up the trail, you will walk on the bridge over Smith Creek. Further up are a lower and an upper observation deck to the waterfalls. The hike is refreshing, asphalt and along the creek.
Click here to read about my visit to ANNA RUBY WATERFALLS
To see US Forestry pictures of the Anna Ruby Waterfall, go here:
Brasstown Bald – Brasstown Bald, the highest point in Georgia (4784-feet). The observation tower is visible for miles around. There is a 3-mile drive from Hwy 180 to the Brasstown Bald parking lot. From there you can either ride the trolley for a small fee or hike the short trail. Regardless of how you get to the top, the scenic beauty and museum displaying the natural and cultural history of the area is well worth the trip. Call (706) 896-2556
Click here to read about my visit to BRASSTOWN BALD
Chattahoochee National Forest – The word "Chattahoochee" means place of marked or flowered rocks. This forest is spreads out over about 18-counties and has 4-ranger districts (Conasauga West, Conasauga East, Blue Ridge, and Chattooga River). The forest is huge and there are many things to do. Most every activity you find in Recreation will have a location in this forest area. Forest recreations activities include but are not limited to: camping, canoeing, fishing, hiking, horse riding, picnicking, OHV trails, shooting, and white water rafting.
Click here to get more information on the US Forest Service CHATAHOOCHEE National Forest
Georgia State Parks
Amicalola Falls, Ellijay – This is one of my favorite state park because it has the "amicalola" (Cherokee Indian word for tumbling waters). Numerous trails are available for the short hike to the top of the 729-foot fall. There is a Lodge at the top and a trail to the Len Foote Hike Inn. Call (706) 265-4703 Click here to read about my visit to Amicalola Waterfall.
Chief Vann House Historic Site, Chatsworth – James Vann was a Cherokee Indian leader in the 1790s. He became very wealthy with his very prosperous 1,000-acre plantation in the Cherokee Nation. In 1804 he completed his 2½-story brick home which was later lost in 1830s when the Cherokee Nation and Vann were forced to march the Trail of Tears to Oklahoma. 706-695-2598
Dahlonega Gold Museum Historic Site, Dahlonega – The dramatic story of the famous 1849 gold rush is told inside the oldest courthouse in Georgia, the 1836 Lumpkin County Courthouse. The museum contains some of the gold coined by the US Branch Mint during its operation between 1838 and 1861. (706) 864-2257
Etowah Indian Mounds Historic Site, Cartersville – This is the most intact Indian culture site in the southeast United States. It is a 54-acres site with 6-earthen mounds, a plaza, village area, borrow pits and defensive ditch for several thousands Native Americans between 1000 AD and 1550 AD. Visitors can see the many artifacts excavated from only nine percent of this site. (770) 387-3747
Fort Mountain State Park, Chatsworth – This Park gets its name from the 855-foot long rock wall. This is a mysterious ancient wall thought to have been built by native Americans for ceremonies. The park is the location of a beautiful mountain lake with a sandy white beach. It has a wide range of activities including swimming, hiking, pedal boating, and miniature golf. Call (706) 422-1932 or click here to read about my visit to FORT MOUNTAIN State Park
Hike Inn at Amicalola Falls, Dawsonville – This is Georgia's only true eco-lodge and has some very interesting "Green" features. It has 20-rooms and is located a short hike from the parking lot at the top of Amicalola State Park. (800) 581-8032
Smithgall Wood Conservation Area, Helen – This conservation area houses some of the most spectacular mountain property in the US. It has 18-miles of roads providing hikers and bicyclists many locations to explore the woods and streams. Trout fishing and wildlife observation draw conservationist and business people alike. There is a lodge for an elegant mountain retreat. (706) 878-3087
Unicoi State Park, Helen – This park is another of my favorite state parks as it has the beautiful Anna Ruby waterfall. It has a lake, hiking, camping, and a lodge. The lodge gift shop specializes in local pottery and quilts. Call (706) 878-2201 or click here to read about my visit to UNICOI State Park.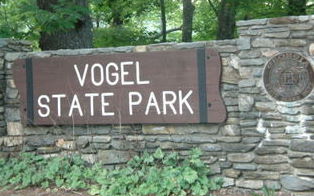 Vogel State Park, Blairsville – This park is the location of beautiful mountain lake. It is one of the oldest and most popular state parks. Camping Life Magazine recognized Vogel State Park as one of the top 25 public campgrounds in the US. It has a wide range of activities including swimming, hiking, pedal boating, and miniature golf. Call (706) 745-2628 or click here to read about my visit to VOGEL State Park.
Local and County Parks
Poteete Creek Campground – Union County recreation departments operates the Poteete Creek Campground on Nottely Lake. It offers camping, boat launching, swimming, fishing, white sand beach, covered picnic pavilions, and a bathhouse. 706-439-6103
Meeks Park – Blairsville's Meeks Park and Recreational Complex offers walking paths, picnic areas, designated pet trails, fenced playground, lighted ball fields, Olympic sized pool, bathhouse, and concessions. 706-439-6074.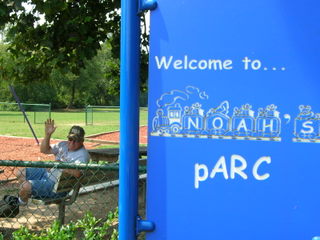 River Park – Ellijay's River Park offers walking, picnic areas, fenced playground, lighted ball fields, volley ball area, bathhouse and Ellijay River access.
The fenced playground is called Noah's Arc (or is that Park?) and has plenty of equipment, ladders, slides, and soft ground for any young explorer to enjoy for hours.