North Georgia RECREATION
What is so wonderful about north Georgia recreation?
One Word: FUN!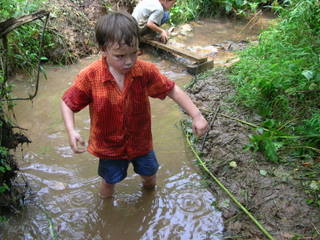 Review the below list in alphabetical order and choose one that interest you for more information.
Regardless of your recreational preference, beauty and adventure abounds in North Georgia.
Whether you are looking for a relaxing recreational getaway or an intense against the wall adventure, your mountain experience will be memorable.
So, come, join me (and my grandsons) in exploring the recreational activties in north Georgia (starting at the stream in my back yard).
Driving tour –
Exploring –
Waterfalls, driving tours, shopping, antiquing, or self-guided driving tours. Exploring north Georgia is what I love and I hope you enjoy my website as I pass on my experiences.
Fishing –
Golfing – Golfers will find several locations for their pleasure. There are courses in Blairsville, Chatsworth, and Ellijay.
Click here to read more GOLFING information
Hiking – Hiking in north Georgia is available regardless of where you go. Most parks that have a lake have a ½-mile trail around it. Any waterfalls that you want to see have a trail to it. And if you are a serious trail hiker, you can hike a portion of the Appalachian Trail. How much time to you have and what do you want to see?
Click here to read more HIKING information
Kayaking –
Mountain Biking –
Horseback riding –
Mining –
White Water Rafting –
Click here to return to Exploring-North-Georgia.com home page