North Georgia FESTIVALS
What is so great about north Georgia festivals?
One Word: FUN!   North Georgia FESTIVALS are exciting, fun, and a memory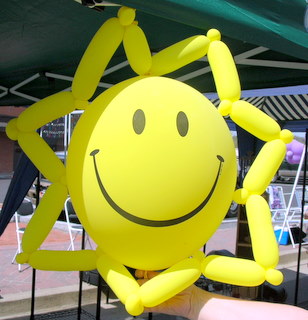 Festivals are wonderful places to go for a most enjoyable time. I love going to them to get the flavor of a community. It doesn't matter if it is at a fairground, in a street, at a church, or downtown. A festival is an opportune time to explore sights, sounds, smells and tastes. Hearing children enjoying themselves, and having the opportunity to sample a wonderful variety of foods brings me joy!
Festivals are a way that people of like mind promote and preserve their heritage. I think the greatest part of a festival is the education presented in such a fun and non-school atmosphere. A festival exposes me to wares, exhibits, talents and culture (oh, and food) from all kinds and walks of life.
The following festivals are in chronological order except the best and most attended festival: God's festival of color – the fall leaf change.
---
Fall Leaf Changing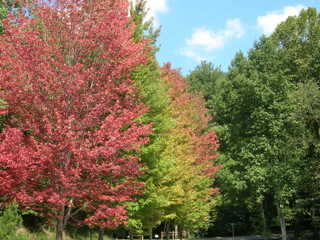 The least likely to be called a festival but certainly the most beautiful is the Fall Festival provided by mother nature herself. I am referring to the leaf change, a magnificent spectacular event in North Georgia. While this is not an official festival, this is the most popular time with more vacationers journeying to the North Georgia mountains than any other activity or attraction.
---
Bear on the Square Mountain Festival, Dahlonega
April each year.
This 3rd weekend in April annual event is a celebration of old-time and bluegrass music. With authentic mountain crafts, a country auction, storytelling, traditional mountain arts and crafts, extensive music workshops, gospel jam (Sunday), street dance, food, children's events, concerts and more, you will surely enjoy your time exploring everything the festival has to offer. For more information call 800-231-5543 or Click here to go to their web site.
Click here to see my pictures of the festival.
---
Blairsville Scottish Festival
June each year
Blairsville Scottish Festival at Meeks Park in Blairsville, Georgia is full of entertainment even if you don't have any Scottish blood. There are workshops, exhibits, competition, dancers and music to entertain you the entire day. Children are welcomed with games, rides, face painting and bouncing air houses. Click here to read about my visit to the Blairsville SCOTTISH festival.
Click here to read about my visit to the Blairsville SCOTTISH festival.
---
Blairsville Bluegrass Festival
September each year
Chairs are provided as you visit 3-stages of Bluegrass music entertainment at the Blairsville Bluegrass Festival the 3rd weekend in September. All stages are within walking distance and have cover in case of rain. As you can imagine, there is plenty of food, music, arts and crafts. Music is the attraction and there are a few bouncing air houses for children to burn a little energy. Click here to read about my visit to the Blairsville BLUEGRASS festival.
Click here to read about my visit to the Blairsville BLUEGRASS festival.
---
Octoberfest, Helen
Sept-Nov each weekend
It is said that Helen, Georgia hosts the biggest festival event in North Georgia and maybe even the southeast US. The town is copied from Munich, Germany. Thousand of people are served the traditional Marzen brew during the 6-week period between the middle of September to the first week in November. There is mixed activities throughout the day. As for the night, you will want to go to Festhalle, the spot for authentic German bands, food, beer, dancing (polka and chicken included), and fun. For more information call 706-878-1619 or go to their web site at: http://www.helenchamber.com
---
Georgia Marble Festival, Jasper
October each year
The Georgia Marble Festival is sponsored by the Pickens County Chamber of Commerce during the 1st weekend each October and begins a month full of weekend activities. The Autumn Antique Treasure Hunt is on the second weekend of October. The Talking Rock Heritage Days are on the third weekend of October. Not sure what is on the fourth weekend.
Click here to read about my visit to the MARBLE festival.
---
Indian Summer Festival, Suches
October each year
The great people of Suches boast of their Indian Summer Festival that is located on the grounds of Georgia's smallest public school, Woody Gap School.
While this is a relatively local festival its advantages are more local arts and craft, a smaller crowd, and great food among local neighbors. Click here to read about my visit to Suches INDIAN SUMMER festival.
Click here to read about my visit to Suches INDIAN SUMMER festival.
---
Prater's Mill County Fair, Dalton
October each year
This small county fair is located about 10 miles north of Dalton, Georgia on Hwy 2. It has grown to become a regional event that centers on the old water-powered and still operating gristmill established in 1855. The Prater's Mill Foundation is a non-profit organization that is dedicated to the historic preservation of the mill and education of life in the late 1800s. Click here to read about my visit to PRATER's MILL Fair. of the mill and education of life in the late 1800s.
Click here to read about my visit to PRATER's MILL County Fair.
---
Apple Festival, Ellijay
October each year for two weekends
My next favorite festival is the Georgia Apple Festival located in Ellijay, Georgia. This occurs during the 2nd and 3rd weekends in October. I love this festival and it is a little over 1 mile from my cabin. There are over 300 vendors and exhibitors with their hand-crafted items, jewelry, quilts, stained glass, dolls, face painting, photographs, tapestry, art, candles and much more. Did I mention food?
Click here to read about my visit to the APPLE festival.
---
Sorghum Festival, Blairsville
October each year for two weekends
Blairsville's most famous festival is the Official Georgia Sorghum Festival. This 40th year event is the 2nd and 3rd weekends in October and is sponsored by the Blairsville Jaycees. The syrup is made from Union County's own grain crop. You can see them making the syrup before your eyes at the "fort" which is the centerpiece of the festival.
Click here to read about my visit to Blairsville's Georgia SORGHUM festival.
---
Georgia Mountain Fall Festival, Hiawassee
October for a week each year
With the scenery, big name musical performances, educational demonstrations, and flower show, there is no better place to be. Before you commit to attending this multi-day event, check out the schedule as you may want to make a special point to attend the ever popular Official State Fiddler's Convention. For more information call 706-896-4191 or go to their web site at: http://www.georgiamountainfairgrounds.com/fallfestival.php
---
Gold Rush Days, Dahlonega
October each year
Another fun festival takes place at the location of America's first Gold Rush, Dahlonega, Georgia. On the 3rd weekend of the month in October over 300 vendors and approximately 200,000 festival-goers make there way to this phenomenal event. The festival is centered at the restored 19th century Dahlonega Courthouse in the downtown square. There is a wheelbarrow race, hog calling contest, liar's contest (politicians are unacceptable as they are professionals), saw cutting contest, pipe smoking contest, wrist wrestling, and a treasure hunt for the children.
---
Mountain Moonshine Festival, Dawsonville
October each year
This festival starts at 9AM on Saturday with a parade of moonshine and revenuer cars. There are vendors, artists, a car show and much more for the thousands of tourists who flock to the birthplace of NASCAR racing. Come and hear the legendary stories and explore the history of Dawson County's illegal liquor and moonshine running during the prohibition era and the Great Depression. There are vintage racecars, kid's games, rides, exhibits, crafts, stages with plenty of music and plenty of cars to look at. Admission is free. All proceeds from activities and food go to KARE for Kids, Inc. For more information call 877-302-9271 or look at visitor information on their web site at: http://www.dawson.org//
---
Christmas Festivals
As for Christmas Festivals, pick a town. The gala attitude of the north Georgia folk is relaxed, celebratory, and delightful. Regardless of where you stay or what town you may want to explore during Christmas, there will surely be some type of celebration or festival of lights. Be sure to contact the town prior to your travel and determine if there is some smaller local festival or county fair.
---
Miscellaneous Festivals
The above festivals are the major ones that are well known. There are other small festivals or park events that I have stumbled across that don't have the advertising, bands, vendors, and crowds but are fun nonetheless. I have found these to be as enjoyable as the well-known festivals, in just a different way. They are more intimate, peaceful, and relaxing. Two of these that come to mind are Ellijay's Spring into Art Fair in April and Blue Ridge's 1st Annual Jazz Festival in July.
The bottom line is that any time is a great time to visit north Georgia!