Driving TOUR #3
Explore and experience the charted attractions of North Georgia Blue Ridge Driving TOUR #3!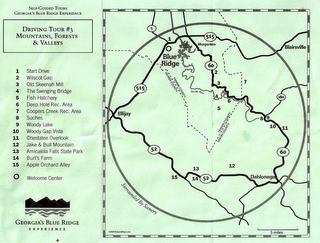 This driving tour is beautiful any time of the year and especially in the fall with the colors. The tour map says that the round trip is 102 miles. But with all of the side trips, I usually go about 130 miles. As for the time it takes without stops, the tour map is right, about 4-hours. With side trips, it takes me all day.
I started at the intersection of Hwy 515 and Hwy 5, traveled east on Hwy 515 towards Blairsville for about 4 miles until it intersected Hwy 60 and take a right. From there travel about 11 miles to Dahlonega and then get on Hwy 52 and return to Ellijay. Take a right on Hwy 515 and travel northeast to return to Blue Ridge.
The highlights of this trip numbered the same as the Self-Guided Tours, Georgia's Blue Ridge Experience as printed and distributed by Fannin County Chamber & Welcome Center. Visit them at their website (Click here) or at their physical location (3990 Appalachian Highway, Blue Ridge, Georgia).
---
1) Start Drive / Executive Summary
This driving tour starts here so I set my trip odometer at zero (0) here. I like to go into the Chamber building to check out anything going on the weekend that I may be interested in. They are a great group of helpful folks and they are excited about the area. So armed with the latest area information and a brand new "Driving Tour #3 sheet, I am off going east on Hwy 515 toward Blairsville.
---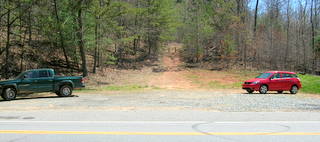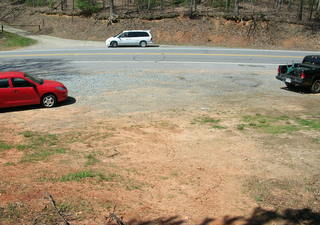 2) Wilscot Gap
There is no sign identifying Wilscot Gap, but the trip odometer is accurate. There is room to get off the road and park here if you want to hike the trail.
I was impressed with the amount of shiny "gold dust" on the ground and wanted to break out my gold pan and shovel. Too bad my kids weren't younger. I would have had a good time with this one. ("We're rich, kids! We're rich!")
As you probably guessed the dust is not Gold but Mica. (No, really, I am not that bad of a parent. After pulling the kids legs about being rich, they would have known something was up and I would had used this as a teaching moment about "no free lunch".
---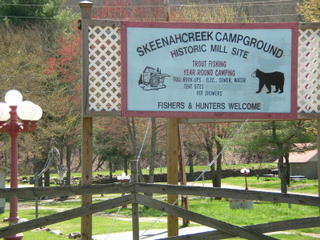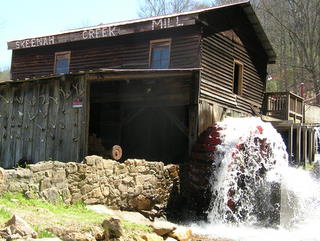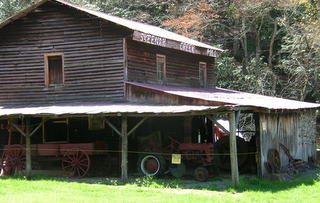 3) Old Skeehah Mill
I pulled over into the Old Skeenah Mill Campground and explored the site.
This was a nice place for a pit stop with shade trees, picnic tables, and a nice restroom. Note that the historic site and the campground are privately owned. The campground manager was very kind to us and had no problem with us walking around when we asked.
The mill building itself is roped off with "no trespassing" signs and is awaiting some tender loving care.
---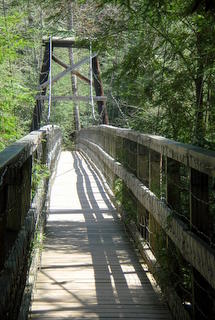 4) The Swinging Bridge
Finding the turn off to the bridge is a little tricky if you don't know what to look for. I found the trip odometer accurate again which was necessary to find Forest Service Road 816. There is a small pull off area if you want to hike to the Swinging Bridge. I chose to travel the dirt road with my urban assault vehicle (Dodge Caravan).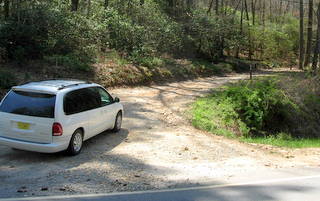 I traveled the road 3.1 miles to an earth berm. I parked and had to ask some visitors which way to the swinging bridge. It is a little uncertain since the area is well driven without an obvious trail head or signs. I hiked the direction of the road. The bridge was about ¼ mile down the trail.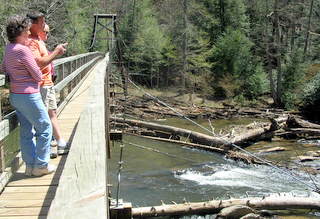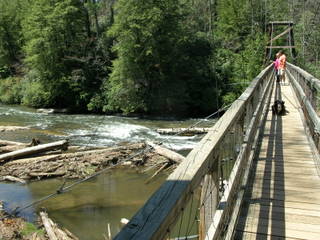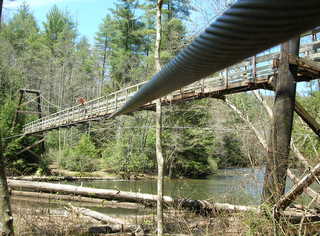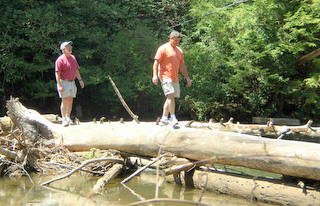 What I found at the end of the trail was a cool swing bridge crossing the beautiful Toccoa River in a picturesque forest. This location was a wonderful place to explore, fish, picnic, and shoot pictures. There is a small 5—foot water fall where we shot pictures of Tommy and Brenda.
I cannot say enough about this north Georgia attraction. I think it has something for everyone. There is one thing that may be a draw back for this faint of heart – the swing bridge swings.
No, really. The bridge is very safe; it just swings side to side. Our family dog did NOT like the swing bridge but she did like swimming in the Toccoa River which was NOT in my plans. (Wet dog in the car – bad idea!)
---
5) Fish Hatchery (US Fish & Wildlife Services)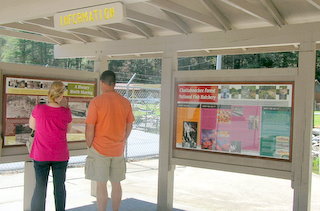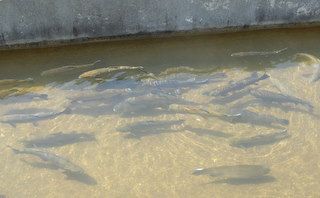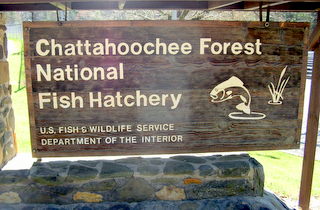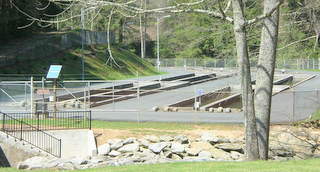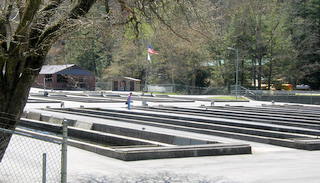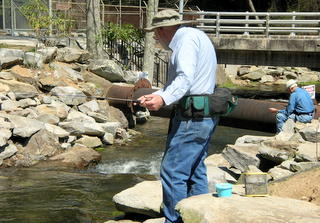 The Chattahoochee Fish Hatchery is 4.9 miles from the turn off. The pavement ends 0.9-miles, leaving the remaining 4-mile drive to be gravel road.
The gravel road is pretty smooth and well traveled. Expect a dusty trip!
One million rainbow trout stocked each year stocked in tail water and streams in Georgia in cooperation with GA Dept of Natural Resources.
Since 1930s numerous dams and reservoirs were constructed in the SE us for hydroelectric power and flood control.
This has resulted in much cooler waters being released from the deep in the reservoirs. Warm and cool water fish like small and large mouth bass, catfish and blue gill could no longer reproduce.
The rainbow trout which survive in cold waters (45-65) are produced by the Chattahoochee Fish Hatchery. This fish hatch is assisting in the recovery of several protected species.
In 2004 GA had 55 fishes to protect. Recovery efforts include holding and hatching fish to maintain the genetic pool and restocking into their historic ranges.
This hatchery participates in habitat improvement to enhance breading area and shelter.
Fertilized eggs are shipped here from other Federal hatcheries and hatched under control conditions. After the young are hatched they are moved to Chattahoochee Fish Hatchery where they are moved to rearing troughs.
They feed on special formulated dry feed every hour. After 3-4 months they reach the size of fingerlings and are moved to outside raceways where they will grow to 9-inch stocking size.
From what I saw, the fish may be small, but the fishing is good in the rocks right below the fishery.
---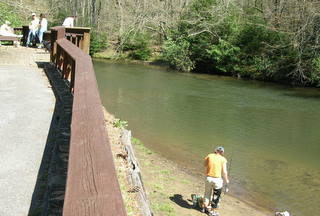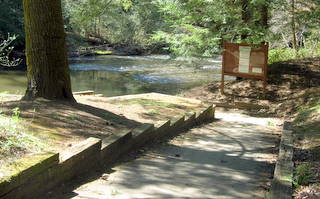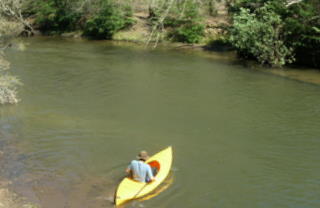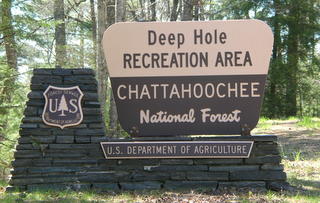 Peaceful, shaded, and slow moving water at this location. The water does move so it does take a knowledgeable boatman to keep the boat (kayak or canoe) in position. The water is naturally cold and according to a southern boy like me, the water down right cold.
There is a place for launching a kayak, canoe or floats. The boat launch area is easy to use. This recreation area is a location where the streams widens and deepens and the stream grade flattens.
---
7) Coopers Creek Rec. Area
I did not get to Cooper Creek Recreation Area because water from Cooper Creek was over the road. So we parked at the dirt parking area at the bed and creek crossing and walked up to Sea Creek Waterfall about 1/2 mile.
---
---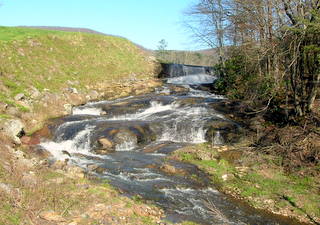 This is a beautiful lake surrounded by private property offering a picturesque mountain view. I did not see the lake at first but saw the dam outfall flowing down a rocky cascade and under the road we were driving.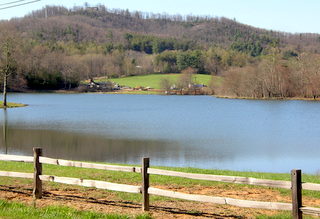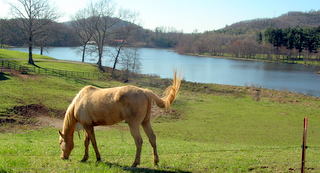 Then I notice the lake on my left. The beauty of this lake is revealed as I traveled on up the mountain and looked back.
---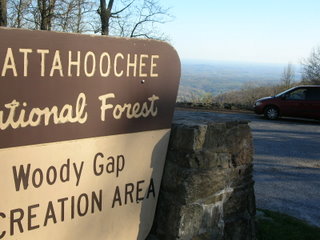 I think of this location as the divide in this beautiful mountain Driving Tour.
From Blue Ridge I have been driving up to this beautiful vista point and from here I will be driving down to Dahlonega. Off to the right is the view and off to the left is the hikers hang out.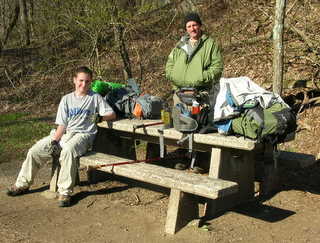 I enjoyed talking to these two guys about the Appalachian Trail and realize how tough the trail really is!
---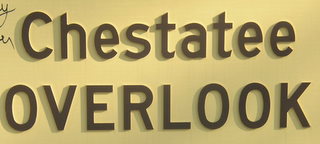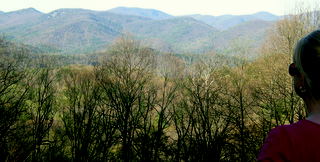 This is a view off to the left and is another beautiful Mountain vista.
---
Dahlonega is one of my favorite mountain towns. It usually has something going on somewhere. I like driving the downtown square to see if they have closed off a street for any festival or musical event. If not, there are plenty of music, antiques, specialty stores, and restaurants available for your pleasure.
---
13) Jake & Bull Mountain Horse and Bicycle Trails
I did not find this place and will look for it later and report back to you on this.
---
14) Amicalola Falls State Park
---
Burt's Farm is a great place to visit. Remember it is seasonal (Fall pumpkin season) and may not be open when you drive by it.
---
Driving Tour #3 takes you down Apple Orchard Alley. Remember it is seasonal (Fall apple season) and many of the apple houses will be closed. During my off-season drives down Apple Orchard Alley, I find R&A Apple House open with wonderful fresh fried fruit pies.
---
Ellijay is certainly one of my favorite mountain towns. It usually has something going on somewhere. I like driving the downtown square to see if they have closed off a street for any festival or merchant event. If not, there are plenty of antiques, specialty stores, and restaurants available for your pleasure.
On a Saturday in April just driving through Ellijay's downtown square we came across the "Spring Into Arts Fair".
Click here to read about my visit to the Spring Into Arts Fair.  WORK ON THIS LINK
---