Driving TOUR #2
Explore and experience the charted attractions of North Georgia Blue Ridge Driving TOUR #2!
This driving tour is about 37 miles one direction and it is not a tour for the faint hearted. It is an exploration into the wilderness.
The Chamber's material states that Driving Tour #2 is 3 hour without stops. They are right. And that is at the higher speeds. No guard rails, narrow road, sharp corners and steep side slopes.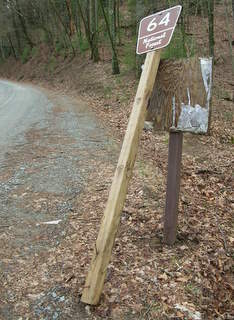 If you don't think you are in the wilderness, check this road sign out! Not in the ground; as LEANING against some old plywood sign without anything on it.
The highlights of this trip are numbered the same as those printed in the Self-Guided Tours, Georgia's Blue Ridge Experience, distributed by Fannin County Chamber & Welcome Center.
Visit them Home Page.
or at their physical location (3990 Appalachian Highway, Blue Ridge, Georgia).
---
1) Start Drive / Executive Summary
We started out at the intersection with our trip meter set at 0. We found all of the mileages stated on the Driving Tour #2 sheet to be accurate.
However, we were pretty amazed that anyone could average 15-20 mph on this gravel road as the Chamber's tour guide said. We found 15 mph about as fast as one could go for any length of time. In fact, while riding the tour, we heard a loud and sudden "click" coming from our car doors only to realize we had gotten OVER 15 mph and the automatic door lock mechanism had been triggered.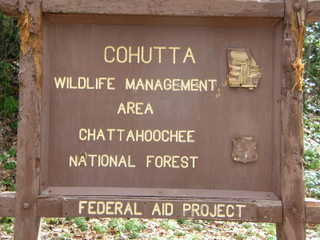 The beauty of this trip is that it is in the wilderness. While you probably will not see much wildlife from the road, you will see evidence of just how far you are off of the beaten path.
For example, check out this picture of the Cohutta Wildlife Management sign at one of the forks in the road. Do you see how a wild and crazy swarm of woodpeckers ate the two government agency logo signs and chewed up the framing? (my attempt at humor!)
During our expedition my wife's aunt said, "Thank God there is the paved road ahead!" Seconds later my wife breaks out laughing and said, "That's not paved road, it is a mirage; the gravel road looks like a paved road." (This summarizes our experience).
Don't get me wrong, I am not complaining. I just was not prepared. And that is one of the reasons I have created "Exploring-North-Georgia"; to help you prepare and know what to expect. Now let's get into our first stop.
---
2) Mercier Orchard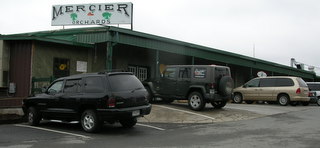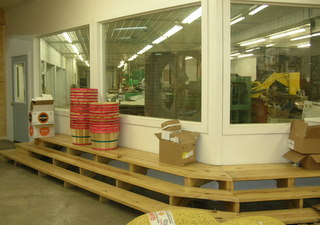 The family and I started from the Fannin County Chamber building at the intersection of Hwy 515 and Hwy 5. We traveled northwest on Hwy 5. Our first stop is Mercier Orchard where you will want to pick up a little snack for the road (cherry milkshake is my favorite).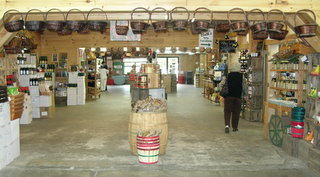 The fact is you may to load up on snacks because you may need them on this Driving Tour. Fannin Chamber's sheet says that the tour is about 3 hours. It took more time than that, so we cut the tour short and did not stop at every point of interest.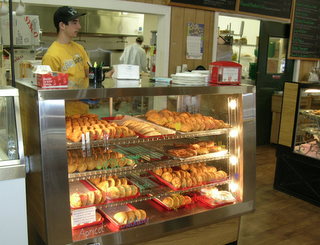 Getting a milkshake at Mercer's chilled me for the driving tour. I have to remind my self "straight line" – point A to point B is NOT the goal. Exploring is the goal. And this driving tour is exploring at its finest. This is for the EXPLORER and not for the faint of heart.
---
3) McKinney Crossing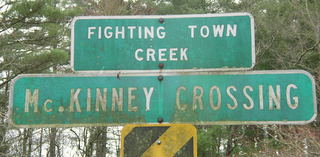 Seeing the old house was a disappointing. It seemed to have relatively recent construction with its handrail on the 2nd floor and its tin roof and some other architectural things I noticed.
It looked like no one was keeping it up and some people were living out it. There were some electric extension chords and rotting particleboard furniture on the front porch.

I did notice the chimney looking very old. The bridge, stream, and chimney was pretty cool but the rest was like other abandoned houses. I wonder why the building as a key component to a driving tour.
No grist mill or other buildings so I am not sure what the point was.
---
4) Mt. Moriah Baptist Church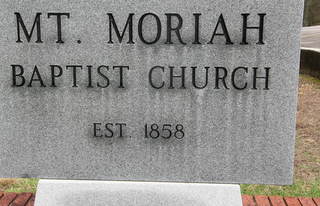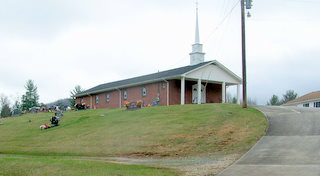 Surely there is a lot of history at the location but the building is recent and the graves near the highway are relatively new. Not much to see here except the date on the granite church sign.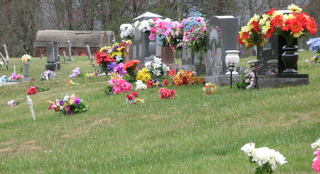 Certainly, the people attending the church are a fine group of citizens to maintain this church and support the campus. But even with its interesting history, I did not see anything historical to observe.
---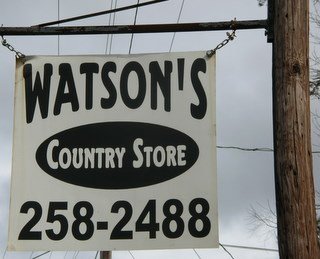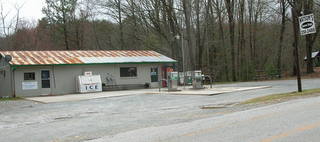 Here is another called out landmark that was less than impressive. Wondering why even mention the structure as I think it takes away from the imagination of what was really there a century ago.
---
Type text here
---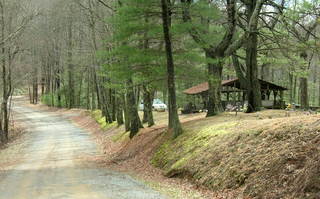 I found the Dyer Mountain Cemetery beautiful, peaceful, and very interesting. I knew that the pavilion (one might call it a pole barn) with all of the church pews, the old head stones, and long tables (and outhouse) carried a rich history.
I could imagine the things that were said at the podium to those who were there to honor their family or friend.
Another interesting fact was the two family names: Dyer and Cantrell. I just wonder what the relationship was between those two families.
---
Type text here
---
This was a quaint campground with restroom facilities, lantern holder, grills, and tent pad. It was nice but not much vegitation or buffer between the camp site. Fact is that it was really an open field campground. The spot is pretty and has a pretine stream for fishing. And if you are transporting horses, watch out for the stream you have to cross to get up the hill.
---
10) Mountaintown Creek Trail
Type text here
---
Type text here
12) Mountaintown Creek Overlook
While the day was partly cloudy at Blue Ridge, the cloud we were in was the only thing we could see.
---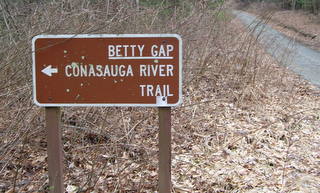 Here is the Betty Gap trail sign.
Pull off the narrow one-lane gravel road to park.
---
14) Junction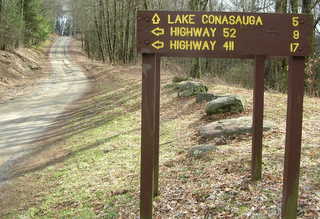 Here is where we turned and headed home. The ten (10) miles round trip to Lake Conasauga Recreational Area was a little more than we could handle at that time of day and we had more to see on the way home. (Notice the narrow gravel road.)
---
Look for future update.
---
15) Ballfield Group Camping Area
Look for future update.
---
16) Lake Conasauga Rec. Area
Look for future update.
---
16) Barnes Creek Waterfall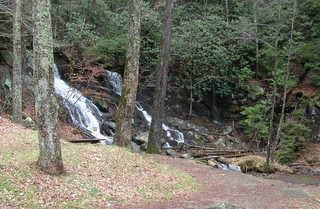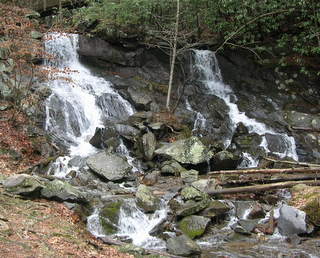 Vista Point had a magnificent panoramic view.
Barnes Creek Falls (recreation area) – A beautiful location for the kids to get out and walk around. The one picnic table by the fall made this location great place to relax and reflect.
---
This is NOT a "driving tour"! This a wilderness Trail!
It was a beautiful ride with plenty of places to stop and hike. It had falls, camp sites, streams and vista views that will be a lasting memory. No doubt that "Lick Skillet Road", the cloud we drove in, and the mirage will bring a smile to our face as we think back on Driving Tour #2, the Wilderness Trail.
I hope your memories of this driving tour are as fond as ours!
---