North Georgia ATTRACTIONS.
What's so wonderful about North Georgia Attractions?
One Word: VARIETY
I love exploring North Georgia and experiencing its wonders and beauty. Another great joy is to have family and friends stay with us at our cabin in Ellijay. I ask them to leave their laptop and cell phone behind so that they can enjoy the exhilarating splendor of the north Georgia Blue Ridge experience undistracted.
North Georgia has an overwhelming number of attractions. Below is a list of the most popular attractions that visitors want to see. But don't forget the many other attractions that you can find on this web site as we explore North Georgia together.
Specific attractions include:
---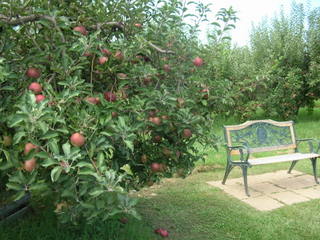 Apple Orchard Alley – This is a 4-mile stretch of road where eight apple houses are located selling the best and freshest products from their orchards. I had a lot of fun as I visited each one and enjoyed their apples and other goodies.
Click here to read about APPLE ORCHARD ALLEY.
---
Blue Ridge Railway – Take a relaxing ride along the beautiful Toccoa River through the scenic Chattahoochee National Forest from Blue Ridge, Georgia and back on this vintage diesel engine railroad train. It is a 26-mile trip with a 2-hour layover for shopping, eating and exploring in the quaint twin town of McCaysville, GA and Copperhill, TN
Click here to read about my visit the BLUE RIDGE SCENIC RAILWAY or stop by their physical location (3990 Appalachian Highway, Blue Ridge, Georgia) and hop the train man.
---
Brasstown Bald – The highest point in Georgia is a 360-degree extravaganza of scenic Appalachian Mountains and valleys. This location is the highest elevation in Georgia at 4,784 feet about sea level. There is a commercial visitor's center at the trailhead and a museum visitor's center at the top. Click here to read about my visit to BRASSTOWN BALD.
---
Amicalola Falls State Park – The tallest waterfall east of the Mississippi River is just east of Ellijay on your way to Dahlonega. This 729-foot cascading waterfall is the tallest east of the Mississippi River. This Georgia State Park is focused on the waterfall and has plenty of amenities to satisfy anyone's need. Click here to read about my visit to AMICALOLA FALLS.
---
Misty Mountain Model Railroad – This is the largest privately owned 14 O-gauge Lionel train display in the US. There are 11 trains on over 50 miles of track traveling through a fantasy journey of the north Georgia towns and the southern Appalachia Mountains exploring 15 tunnels and 12 bridges housed in its nearly 4,000 square foot building. The work and craftsmanship is quite impressive. The best time to visit the center is Saturdays at 2 PM for the public tour. There are other tours depending on the month and weekday. You can call them at 706-745-9819.
---
Burt's Farm – Burt's Pumpkin Farm is located north of Dawsonville, Georgia near Amicalola Falls. You can purchase pumpkins of every color, size and shape you can imagine. There is plenty of parking and some entertainment. They have a gift shop, all kinds of pumpkin baked goods, and hayrides. Call 800-600-BURT. Click here to read about my visit to BURTS FARM.
Lakes
– North Georgia lakes offer a tranquil setting for relaxation and maybe a nap or the exciting joy of children playing at the beach. I like loading one of my grandsons in the kayak or a tube and just paddling around as we spend time talking.
Click here to read about north Georgia LAKES
.
Museums
– There are many small museums for your exploration. In general they are very specific as they represent a local historic event, cultural history, or educational information. A lot of what you'll learn you won't find anywhere else.
Click here to read about north Georgia MUSEUMS
.
Recreation
– Enjoy the exhilaration and satisfaction of a day spent participating in your favorite recreational activity. Whether you are contributing or observing, north Georgia offers recreational options that few vacation locations offer.
Click here to read about north Georgia RECREATION
.